About The Inn
Welcome to An English Garden Bed & Breakfast where you will delight in a personal, intimate setting reminiscent of the old seaside cottages from England and historical Cape Cod.
Formerly known as The Loydon Inn and the Innisfree, An English Garden Bed and Breakfast was built in 1922 and lovingly renovated in 1999. It's one of the oldest bed and breakfasts in Dennis Port. The grey shingled cottage is surrounded by blooming English roses, hydrangea bushes and delphiniums that cascade over the white picket fence. Although every season is beautiful, the spring and early summer are when you will be able to enjoy the luscious garden in full bloom.
The inn has been family owned and operated, allowing for a more small-feel and personable vibe.
The inn has 9 cozy basic guest rooms (1 queen or king bed) in the main inn and 2 one-bedroom suites, located in the detached, quaint carriage house. This makes the perfect romantic getaway with your significant other or enjoy the peace and quiet with a lovely book overlooking the garden. Located one block from the beach, partial ocean views can be seen by most rooms. Keep the windows open while asleep at night for a touch of an ocean breeze and a breath of fresh salty air.

Cape Cod Location
Part of New England, Cape Cod holds a historical charm. A maritime economy, the Cape is a hidden jewel that many tourists travel to each year for its wonderous beaches, clam chowder, seafood, and family adventures.
The conveniently located Mid-Cape bed & breakfast is approximately 150 yards from a sandy beach where, in summer, the warm waters of Nantucket Sound average 72 degrees. The property and gardens are surrounded by 11 acres of conservation land with well-maintained walking trails. Easily accessible from our inn are both upscale and casual restaurants, ferries for day trips to the islands of Nantucket and Martha's Vineyard, as well as championship public golf courses, beautiful beaches, bike trails, tennis courts, shopping, fishing, water sports, and the Cape Playhouse theatre.
Breakfast
All guests will experience our full, hot breakfast in our breakfast room, full of bright and airy windows. One can see the ocean while sipping their coffee.  We begin your day with coffee, tea, and a full, hot breakfast that is Chef's Choice. Each meal is unique, using the freshest seasonal ingredients.
Breakfast is served daily during peak-season May-October from 8:00 AM to 10:00 AM and there is an available Keurig coffee maker and electric tea kettle supplied with coffee and tea that guests can use throughout the day or during the winter months of the off-season. Breakfast is NOT available November through April.
Beach Essentials
Beach chairs and beach towels are available to guests on a first-come basis. The public beach is a two-minute walk down the road off of Inman Rd. If you prefer to drive, you can drive to unload or park on-site but you will need to purchase a beach sticker in advance.
Beach Yoga
Yoga classes on the beach are offered to all English Garden guests at our sister property down the road at By the Sea Guests' private beach every Saturday 8-9 AM EST seasonally. Equipment is provided.
Room Amenities
Each bedroom has a private bathroom, heat and air-conditioning, WIFI, a flat-screen TV, and a balcony or private deck. Most bathrooms include a standard bathtub.
Shared guest spaces, include mini fridges, microwaves, a cozy parlor with a fireplace, the breakfast room with dining tables, and seating areas in the luscious gardens. There is also an outdoor shower but it's only used to rinse off after returning from the beach.
Ocean Views
Located down the road from the beach, many rooms have beautiful partial ocean views from the rooms or private balconies. What's better than waking up to the ocean outside your window and a glorious cup of coffee?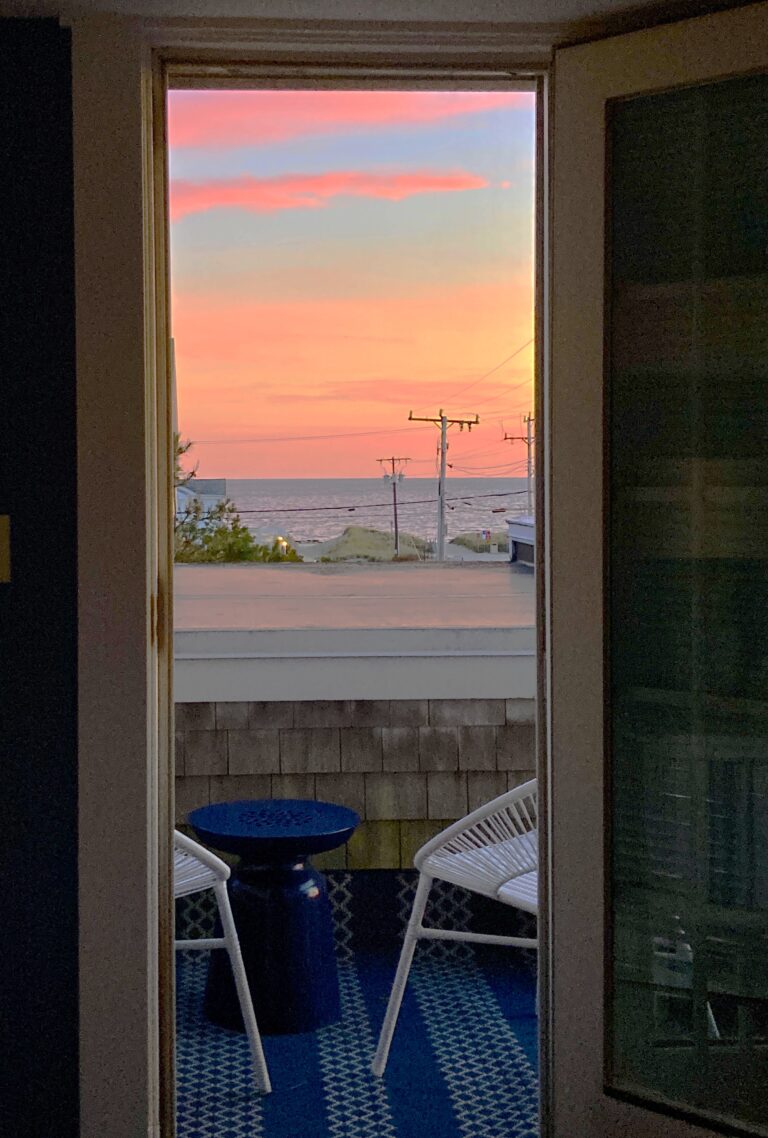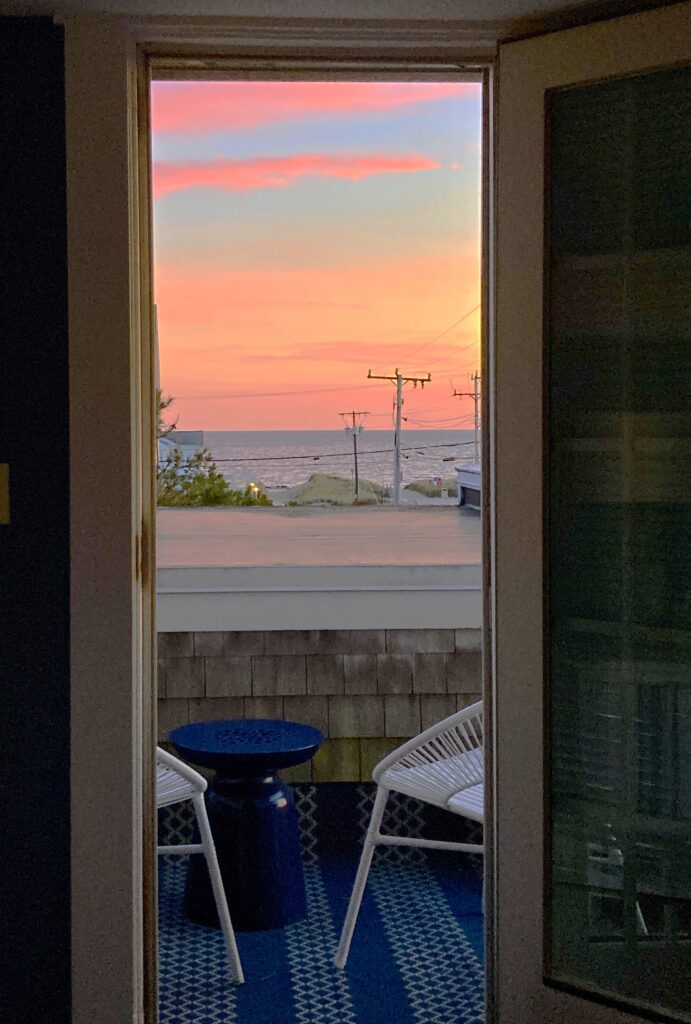 Check-In/Checkout
Although the check-in and checkout process are contingent to update each season, check-in is at 4 PM and checkout is at 11 AM.
Check-in and checkout are contactless again this season. Further instructions are provided in your confirmation email. We do not provide early check-in or late checkout so please plan accordingly, especially wedding guests. You are more than welcome to arrive early or depart late and use our guest amenities but please note we do not have the facilities for luggage storage, refrigeration, or showers.
Concierge
Our front desk staff will be happy to accommodate you with any concierge request, whether you're looking for a nearby restaurant, bar, things to do, or nearby sites to explore, our staff will be available to help. We have a concierge print out that is located in the common area. Please note, the front desk is only open during business hours, which fluctuate seasonally.
Parking
One parking spot is allowed per reservation. Parking is free but limited, so please plan accordingly in advance.
WiFi
WiFi is complimentary to all guests and available in all rooms.
Housekeeping
All rooms are cleaned thoroughly in-between stays after checkout. Maid service can be provided during the duration of your stay. Special requests are available, such as irons/iron boards, hair dryers, and extra towels. Cots, cribs, and play packs can be added on based on availability, depending on the room. Daily housekeeping is not available in the winter.
Children
Children under 8 years old are not permitted, unless staying in one of our two suites that are located in the charming, detached carriage house. Although we love children, our guests truly appreciate the quaintness and quietness that the bed & breakfast preserves so they can relax and unwind on their escape retreat.
Our two beachfront sister hotels, By the Sea Guests and Seashell Motel are located down the road and offer more kid-friendly accommodations. Our staff is able to take reservations on their behalf.
Pet Policy
An English Garden is not pet-friendly. However, one of our sister hotels, Seashell Motel, is pet-friendly and our staff can take reservations for Seashell as well.
Non-Smoking
All rooms and guest spaces are non-smoking.
Deposit Policy
We require a 40% deposit upfront to hold a room.
100% of the stay is charged upfront as the deposit to reserve the room for 1-night stays.
Cancellation Policy
If the reservation is cancelled 14 days or more before arrival, the deposit is refunded, less a $125 cancellation fee.
If the reservation is cancelled 14 days or less before arrival, the deposit is non-refundable.
We highly encourage the purchase of third-party travel insurance to cover unforeseen emergencies or illness, including COVID-19.
*Please note that third party websites have their own deposit and cancellation policies.
No Show Policy:
The total balance will be charged for no show reservations.